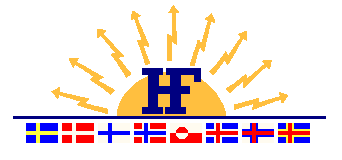 Welcome to the homepage of the Nordic HF conferences
Site updated: 03-jan-2022 10:46 +0100

Pages updated: Home - News - Invitation
---
The Nordic HF conferences
A series of Nordic conferences on HF communications was initiated in 1986 when HF 86 was held in Sweden. International interest in contributing with papers, exhibits and participants has grown, and we are now pleased to find that a conference that initially was planned for a limited audience of Nordic countries now has an international acclaim.

The next Nordic HF conference, HF 22, is planned for 15-17 August 2022

Now open for Author/Participant registration and Abstract description through My Pages [03-Jan-2022]

Please open/distribute:

HF 22 First Invitation and Call for Papers [12-Nov-2021]
More information will be updated by time from the Invitation page. So please check back soon again!

The previous Nordic HF conference, HF 19, was held 12-14 August 2019
The HF 19 conference turned out to be yet another successful conference, both technically and socially. Thirtythree (33) years have passed since the first conference in the series was held in 1986 and we have held them every 3 years without missing out on a single one!

Link to access a Participants photo album from the HF 19 event has been added to the top of this page.
More photo albums are found via the Archive page - photos of the camp itself and earlier conferences.

Check the Invitation page for all information previously posted here on HF 19.

HF 19 Presentation files can be accessed by HF 19 participants only (password) through the Programme page.

All previous conferences: Nordic HF Archive (HF 86, HF 89, HF 92, HF 95, HF 98, HF 01, HF 04, HF 07, HF 10, HF 13, HF 16, and HF 19)
How to obtain the Proceedings on CD-ROM from all previous conferences.
The HF conferences are always held at the Fårö kursgård camp on Fårö, a small Swedish island in the middle of the Baltic Sea. The SL1HF card shows the location.
The Nordic Radio Society is the official host and organiser of the event.
---
Questions: Contact

info(at)nordichf.org